About your Lake George Fishing Guide
Whether fishing or hunting, choose a native guide who knows the area.
Captain Ed Lockhart is the only native Lake George charter boat captain operating on the lake; born and raised in Lake George. With a lifetime of knowledge of the lake, the area, the people and the history of Lake George. The Lockhart family settled on the east side of Lake George two hundred years ago and has seen many changes happen.
With your captain as your guide, you will discover fishing secrets and experience exciting fishing aboard one of the largest, most comfortable charter boats on Lake George. Learn the history, experience great fishing and marvel at the crystal clear waters of Lake George. If you are planning a group boating adventure, we also accommodate everything from wedding groups to bachelor parties. Our goal is a 110% good time, whether you want to fish or just sit back and enjoy the scenery.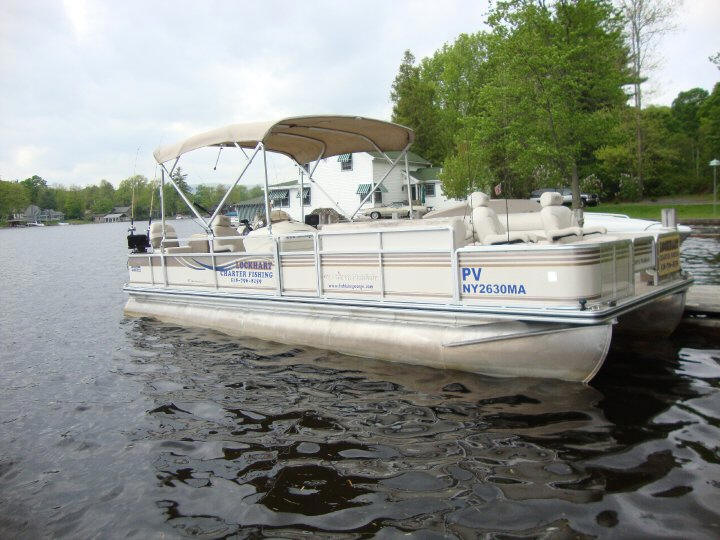 When you're looking for an Adirondack wilderness trip or a Lake George fishing adventure, call Lockhart Guide Service.
Ed Lockhart, is a third generation New York State Licensed guide. A 1987 graduate of Paul Smiths College in Forestry and Land Surveying, Lockhart is also an Emergency Medical Technician with an extensive background in all aspects of guiding. Wilderness Survival, Animal Tracking, Remote Site Trips and White Water Rafting are other areas of experience.
Lockhart Lake George Fishing and Adirondack Guide Services, an experienced 'local' professional guide with quality gear at a reasonable rate. Lockhart Guide Services is sure to make your next Adirondack adventure a memorable one.
References and Feedback
I enjoy seeing people having a good time with great memories to last. I also do appreciate your positive feedback. See you on the water! Sincerely, Ed Lockhart
Hi Ed,
Just wanted to drop you a line once we got home from Lake George. Emma and Taylor can't stop talking about their experience. Fran loved the boat ride and Mike and Mike just enjoyed getting out on the lake. Thanks again for a great trip. Hopefully, we will see you next year for a Lake Trout trip.
Mike Stefanick
---
Ed,
Thanks for an absolutely wonderful fishing trip. The whole family, kids and adults, had such a great time. The 3 hours just flew by. A special thanks for taking such good care of the younger kids, both with the fishing and just generally keeping them entertained. We will most definitely call you again next summer for another trip.
Joseph Boccassini
---
Hi Ed,
Thanks for showing us a great time on the lake on Saturday. You look us out for the 5pm - 8pm trip which was awesome! Everyone had a blast and i'll definitely recommend your services and we'll hopefully be back at some point in the future.
Ryan
---
Hi Ed, We wanted to thank you for a wonderful fishing trip. Tommy, Don and I had a wonderful time. Tommy was so excited to go fishing for the first time and catch so many fish!! Don and I appreciated your easy instruction - I couldn't believe I caught a fish the first time I cast my line in the water. Your trip started our vacation out on a perfect note with tons of wonderful memories. Thanks again for a wonderful time!! Claire Riley
---
Hi Ed,
My son (Brett) and I want to thank you for a very memorable fishing trip you provided for us this past Monday evening! We were impressed with the amount of "action" we received during the 3 hour time period. The quantity and size of the bass that we caught were quite remarkable! We also enjoyed your company and appreciated your expertise and humor! We definitely plan on coming back either later this fall or next spring for another go around! Thanks for the experience that my son and I will remember for a lifetime!
Max
---
Hi Ed,
We're back home after our short vacation in the Adirondacks... the highlight of which was our fishing outing on your boat yesterday! We really enjoyed it, and truly appreciate your hospitality and wisdom. We'd love to see the photos you took with your camera; please e-mail them to me at your convenience.
Many thanks again, and take care, Erica Miles
---
Hey Ed,
Below is the note my brother-in-law John sent to you this morning. I agree totally with everything he said but just wanted to add a few words from me personally. The boat, the gear, the information you shared regarding the Lake George region and your obvious skill couldn't have been better for me, considering! Most importantly I want to say thank you (and thanks to my bro-in-law John for finding you), for an experience that most blind people would never have. My being blind turned out to be no obstacle at all; your boat, equipment and help were exactly right for the situation.
Thanks again, Doug
---
You know, Ed,
To say that you were accommodating to us would be quite an understatement. Despite your better judgment, we dragged you out in the rain the first day. Even when we did get a nice day, and kept you out well past the planned 4 or 6 hours, you never flinched. Even on a finicky day for fishing, following a couple days of rain, you found us plenty of bass, and big ones to boot. You're a terrific guy to be around, and we enjoyed ourselves immensely. My personal thanks to you, Ed, for having fulfilled what I had dreamed this vacation would be for me, my brother-in-law Doug, and my dad. I'll never forget it.
John Carle Lancaster, PA
---
Dear Mr. Lockheart,
My husband and I were going through our photo albums with our children and came across your brochure from 1997. That summer we come up to Lake George with my family and we took a fishing trip on your boat and we took pictures and sent them to you. You made a brochure with one of the pictures of my son with your daughter (black and white and later on in color. We had great memories that summer thanks to you. This summer we had friends come up and told them to look you up if interested in fishing they came and said they had a great time. I just wanted to share a piece of memory with you. I hope all is well with you and your family.
Susie Santaniello Staten Island, NY
---
Hi Ed,
I just wanted to take a moment and again thank you for a great day of fishing, stories and just being on the lake. My sons and I truly enjoyed our experience. Josh was so excited about catching so many fish and it will be an experience he will remember for a life time. Even Mark who didn't catch as many as Josh commented that just being together and enjoying the time spent together was a treasure. We will definitely make another trip up to fish and will take my wife who after hearing our story seemed like she would enjoy it as much as we did. I'm hoping that maybe in late September when the Great Garage Sale in Warrensburg takes place we can come up again. Would the fishing be good then/ well, I'll let you go so again many thanks, Ed.
Mark Sweeney, Computer Operations Supervisor Department of Labor & Training
---
Hi Ed,
I just wanted to get this note off to you to tell you what a terrific experience you provided for my wife and me on May 29 2010 just 4 short days ago. We desperately needed some relaxation and in the 4 hours we spent with you we got all of that and more. You clearly knew the waters of that lake better than most men could know their bath tub. As a result , my wife and I each caught about 15 fish which were released to get  bigger for next time. My wife had never done any thing involving the outdoors and she had a perfectly wonderful day. Your pontoon boat was very easy ion her as she can have motion sickness but with your boat , no problem. In those rare moments when you were not expertly guiding us toward where the fish were, you tested my knowledge of TV and Movie western trivia, provided excellent conversation and local history lessons and some outstanding suggestions on where to eat. I went to that prime rib place and I tell you what, it was a big piece of prime rib, more than i could handle , and cooked to perfection.I have no reservation whatsoever about spreading the word that for the best relaxation and entertainment a morning fishing with Ed Lockhart is money well spent. Would I do it again? Just show me where to sign up.
Best wishes, Earl Dewey, Wallingford CT
---
Hi Ed,
Just wanted to take a moment and say thanks for the great day fishing. Hunter and I really enjoyed the afternoon and we both can't thank you enough for such an outstanding day. We are looking forward to ice fishing this year. Just let us know.
See you soon, Deane Moss
---
Hi Ed,
Thank you for a fun filled day. the guys really enjoyed the day. It was made possible because we all came to a conclusion that night that you we simply a down to earth guy without an attitude. we will be back up next summer with the families and we will book with you again. Ed, thanks for a great week. We could not have picked a better captain on the whole lake!
Dan
---
Ed,
Thanks so much for taking us out on Saturday afternoon. Lesa, I and Alesandra had a blast! In fact, my wife was singing your praises and telling everyone at Diamond Cove Beach about your fish locator skills!! Thanks for all of your help.
Regards. Paul V. Greco
---
Hey Ed,
I just want to thank you for another great time, though the conditions were tough your knowledge and company made it another great trip. Sharon and sled ed feel the same way and we'll see you soon.
Thanks again!
---
Ed,
I just got back and wanted to thank you for a great evening of fishing. My son Richie has not stopped telling fish stories since he got back that night. Your easy going nature and ability to put us on fish made the experience exactly what I had hoped for. You definitely have a repeat customer for years to follow.  
Thanks Rich Dalton
---
Dear Ed,
I just wanted to say Thank you for a most wonderful day fishing. Jonas and Jordan had a great time and talked about it all day. I just looked at the picture of them on the web site and they look great! Again Ed, thanks for a fun filled day of fishing and when I am back up in the Lake George area I will call ahead and book a new trip with you.
Sincerely, John Stankovich