Lake George Charter fishing with Lockhart Guide Service
We specialize in Bass fishing on Lake George using the latest in lures and light tackle. Our pontoon boat can go in less than two feet of water, allowing us to go very shallow for the early season Largemouth and Smallmouth Bass. Crappie and Northern Pike are also plentiful in the spring. We also have Scotty downriggers for Trout and Salmon fishing.
Enjoy a beautiful day on Lake George aboard one of the largest and most comfortable charter boats with a native guide who was born and raised here in Lake George. We offer affordable fishing aboard a boat that was custom made for fishing. Our 26' custom Harris "Fisherman" Pontoon boat has over two hundred and twenty square feet of fishing room for up to a dozen people.
This customized fishing boat is outfitted with a quiet 115hp Honda four stroke motor, along with all the latest electronic fishing equipment and tackle; whether you want to troll for deep water Lake Trout and Salmon or cast around for Bass and Pike. This vessel is equipped with captains chairs and couches for maximum fishing comfort.
Unlike regular fishing boats where comfort is secondary and you have to climb over the boat to get in, this boat has extremely comfortable seating for twelve people and the ability to walk aboard from the dock thru an open door. This larger style custom pontoon boat is a very stable on the water and has room all around the boat, so you won't be confined to just the back end of the boat. Our charter boat is inspected yearly by the state of NY and approved for up to 12 people.
Your captain, Ed Lockhart, is a licensed captain and outdoor guide with a perfect safety record. Our pontoon boat can get into the shallowest water to fish for Pike and Bass where other charter boats could not possibly go. We offer free photographs and videos of your trip so come aboard and enjoy a day of friendly service, great fishing and beautiful scenery.
Our trips are all private so only your group or family will be on the boat. Our fishing boat, the Nathan Brown, was named after one of our local heros who was killed on Easter day in Iraq.
We entertain groups of all sizes so don't be cramped on a small boat, it costs no more to hire the finest boat along with a guide who is from Lake George NY. Captain Ed has the personality to entertain people of all ages and show everyone a great time, whether you're a serious fisherman or on your first fishing trip. I take pride in showing you the highlight of your Lake George vacation and giving you and your loved ones the memories that will last a lifetime.
Christmas gift certificates available in time for Christmas. We will email a custom gift certificate to you .
Our boat The Nathan Brown.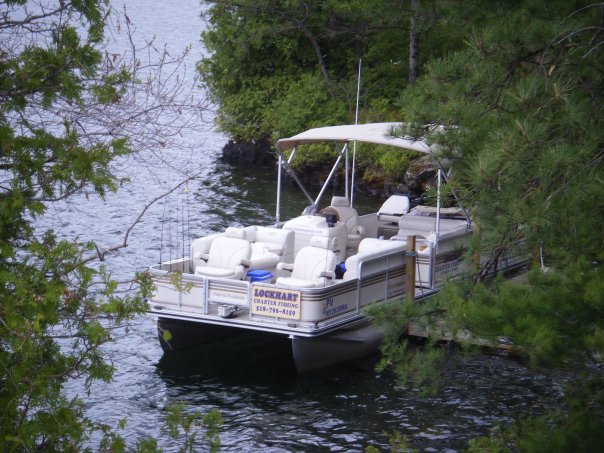 Choose a boat that offers enough room, comfort and quality to make your fishing trip on Lake George an experience to remember. From families with children to corporate groups to bachelor fishing parties, choose the biggest and best!
Fishing Packages Include
Our 26' custom "Harris 250 Fisherman" pontoon boat is one of the largest and most completely outfitted charter boats for all types of fishing on Lake George. This boat is customized by the Harris company for comfort, superior fishing and comes equipped with

A Large Live Well
Bait Tank
Scotty Down Riggers
Aqua-Vu underwater viewing camera
a Restroom
multiple fish finders
a cover for sun or weather
seating for a dozen persons
Our top quality helm chairs swivel to face the water, so you can fish like a pro or sit back and enjoy the Adirondack surroundings. Pontoon boats offer much more space than regular boats, instead of cramping people in the back of the boat, you can use the entire boat for fishing. Able to go in much shallower water in pursuit of fish, this boat offers casting room for all and is very stable on the water. It is more enjoyable to fish closer to the water than way up off the lake like some boats are, you are closer to the action!
Our 115hp four stroke Honda motor is clean, fast, reliable and quiet. We can accommodate larger families and groups on our vessel saving you money from hiring or renting two boats, it's much better keeping your family or friends together on the same boat. We can make arrangements for corporate groups and extended families for multiple fishing boats.
 For reservations call toll free anytime at 1-888-848-5253. or my cell phone at 1-518-796-8159
Take a Lake George photography trip and capture wildlife on your camera .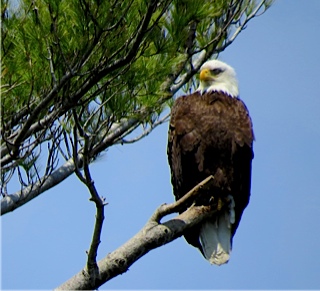 Birthday, graduation or wedding gift? We offer gift certificates for an unforgettable fishing and lakefront lodging experience and available immediately by email so treat your loved one to an outdoor adventure! Scroll down this page to "Buy Now" and secure a date for this summer.
Captain Ed Lockhart is the only native Lake George charter boat captain operating on the lake, born and raised in Lake George. With a lifetime of knowledge of the lake, the area, the people and the history of Lake George, Captain Ed will share the local best kept secrets.  The Lockhart family settled on the east side of Lake George in 1820 from Scotland and has many generations of outdoor guides. With your captain as your guide, you will discover fishing methods and experience exciting fishing aboard one of the largest, most comfortable charter boats on Lake George.
Learn the local history, experience great fishing and marvel at the crystal clear waters of Lake George. If you are planning a group boating adventure, we also accommodate everything from wedding groups to bachelor parties. Our goal is a 110% good time, whether you want to fish or just sit back and enjoy the scenery. Above all else we are friendly, great with kids and always look forward to having you choose Lockhart fishing, as your northern outdoor Adirondack guide.
We will come to where you are camping on Lake George and pick you up for a day of unforgettable fishing. Some locations where we will come are Hearthstone Park and Long Island, Just tell me what campsite # you are at and I will be there.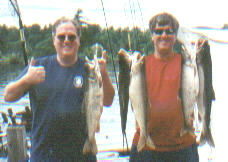 From avid anglers to family day trips, your party will enjoy Adirondack Mountain scenery and the famous fishing of Lake George.
Dockside Pickup!
No driving worries, we will come to you! If you're staying at a Lake George lakefront motel, resort, time share, condo or private rental we will come to you. If you are planning a camping trip to a Lake George island (Long Island), I will come to your site and pick you up; first class service!! . Boat departs 3 times daily at 9am-12noon 12:30pm-3:30pm and 4pm-7pm all trips are made with reservations and a modest deposit. Our dockside pickup is great for persons needing a designated driver so leave the driving to us, it's your vacation!! A modest fee of $20 for dockside pick up is charged to cover the extra fuel and time.
Boat Rentals vs. Lockhart Charter?
Our rates include everything with no hidden charges. In comparison to renting a boat and taking it yourself, we provide all the gear, gas, guide services, a bigger and better boat and someone who baits up hooks and untangles lines so you can relax on your vacation! When you charter with us you will not have the financial responsibility of a boat, security deposits or paying for gas and sales tax. After you have compared the hourly cost of Lake George boat rentals, you will see that your best investment on the lake is Lockhart Charter Service. Why rent a little 18' boat when you can have a 26' custom pontoon with a captain and all the gear and gas supplied.  
Rates (three hour fishing trip)
One person $250
Two persons $125 per
 Three persons $100 per
 Four persons $80 per
 Five persons $70 per
 Six persons or more $60 per person
Group rate of six or more persons for three hour trip is $60 per person.
All our trips are private so only your family or group will be aboard.
3 hour afternoon and evening Bass fishing trips offer calm water and great fishing. We offer a boat that is perfect for "conventional fishing" and we specialize in pleasing the fisherman who just wants to cast out and catch a fish while you're reeling in. I will take you around the islands and bays using live bait, crank baits, Yamamoto soft plastics and other top quality lures for some of the best sport fishing New York State has to offer. I provide top quality live minnows, worms and hellgrammites and crayfish (when in season). Call 1-888-848-5253 It's toll free! 1-518-796-8159 (cell phone) or 518-812-0203 to reserve a day. Lockhart Charter Fishing is not responsible for parking fees for your vehicle. We prefer to meet you at the Castaway Marina on Route 9L near Ridge Road. The Castaway Marina offers a wide range of boating services, boat repairs, parking, launching, gas and boat sales along with a friendly staff. We also will meet you at the public docks in Lake George village or pick you up at your Lakefront motel, resort or residence.
A friendly reminder. Many hours are spent "behind the scenes" preparing a trip for your enjoyment and pleasure. With the ever rising cost of fuel, bait, tackle, dockage, maintenance and insurance; the fishing business and boating have become an expensive sport. Any fishing guide or first mate especially appreciates a tip, it helps offset these rising costs. Our fishing business also depends on marinas (like Castaway) to be able to operate and we ask that you please respect the marina and the privacy of the boats that are docked there. Please use this marina only for parking and boarding our boat. We supply fishing line, sinkers and hooks at no charge. Any lost gear, poles or lures will be the users responsibility.
A $100 deposit is required to reserve the boat. Deposits may be made through Paypal to elockhart@roadrunner.com or by check. Lockhart Guide Service will not make reservations without a deposit. Mailing address is Lockhart Guide Service LLC 50 Dream Lake Rd Ext. Lake George NY 12845. Gift certificates are available.
We recommend you bring
Clothes to suit the weather
Soft soled shoes
Sunglasses
A fishing license
Beverages of your choice. (we do not provide beer)
All items brought on board are the responsibility of the owner. Your Captain accepts payment at the beginning of the trip in cash, certified check or money order; we do not accept credit cards or out of state checks on the boat. If you wish to pay with a Credit card, payment can be made before the trip thru the Paypal site listed above.
Thank you, Sincerely
Ed Lockhart
References and Feedback
I enjoy seeing people having a good time with great memories to last. I also do appreciate your positive feedback. See you on the water! Sincerely, Ed Lockhart
Hi Ed,
Just wanted to drop you a line once we got home from Lake George. Emma and Taylor can't stop talking about their experience. Fran loved the boat ride and Mike and Mike just enjoyed getting out on the lake. Thanks again for a great trip. Hopefully, we will see you next year for a Lake Trout trip.
Mike Stefanick
---
Ed,
Thanks for an absolutely wonderful fishing trip. The whole family, kids and adults, had such a great time. The 3 hours just flew by. A special thanks for taking such good care of the younger kids, both with the fishing and just generally keeping them entertained. We will most definitely call you again next summer for another trip.
Joseph Boccassini
---
Hi Ed,
Thanks for showing us a great time on the lake on Saturday. You look us out for the 5pm - 8pm trip which was awesome! Everyone had a blast and i'll definitely recommend your services and we'll hopefully be back at some point in the future.
Ryan
---
Hi Ed, We wanted to thank you for a wonderful fishing trip. Tommy, Don and I had a wonderful time. Tommy was so excited to go fishing for the first time and catch so many fish!! Don and I appreciated your easy instruction - I couldn't believe I caught a fish the first time I cast my line in the water. Your trip started our vacation out on a perfect note with tons of wonderful memories. Thanks again for a wonderful time!! Claire Riley
---
Hi Ed,
My son (Brett) and I want to thank you for a very memorable fishing trip you provided for us this past Monday evening! We were impressed with the amount of "action" we received during the 3 hour time period. The quantity and size of the bass that we caught were quite remarkable! We also enjoyed your company and appreciated your expertise and humor! We definitely plan on coming back either later this fall or next spring for another go around! Thanks for the experience that my son and I will remember for a lifetime!
Max
---
Hi Ed,
We're back home after our short vacation in the Adirondacks... the highlight of which was our fishing outing on your boat yesterday! We really enjoyed it, and truly appreciate your hospitality and wisdom. We'd love to see the photos you took with your camera; please e-mail them to me at your convenience.
Many thanks again, and take care, Erica Miles
---
Hey Ed,
Below is the note my brother-in-law John sent to you this morning. I agree totally with everything he said but just wanted to add a few words from me personally. The boat, the gear, the information you shared regarding the Lake George region and your obvious skill couldn't have been better for me, considering! Most importantly I want to say thank you (and thanks to my bro-in-law John for finding you), for an experience that most blind people would never have. My being blind turned out to be no obstacle at all; your boat, equipment and help were exactly right for the situation.
Thanks again, Doug
---
You know, Ed,
To say that you were accommodating to us would be quite an understatement. Despite your better judgment, we dragged you out in the rain the first day. Even when we did get a nice day, and kept you out well past the planned 4 or 6 hours, you never flinched. Even on a finicky day for fishing, following a couple days of rain, you found us plenty of bass, and big ones to boot. You're a terrific guy to be around, and we enjoyed ourselves immensely. My personal thanks to you, Ed, for having fulfilled what I had dreamed this vacation would be for me, my brother-in-law Doug, and my dad. I'll never forget it.
John Carle Lancaster, PA
---
Dear Mr. Lockheart,
My husband and I were going through our photo albums with our children and came across your brochure from 1997. That summer we come up to Lake George with my family and we took a fishing trip on your boat and we took pictures and sent them to you. You made a brochure with one of the pictures of my son with your daughter (black and white and later on in color. We had great memories that summer thanks to you. This summer we had friends come up and told them to look you up if interested in fishing they came and said they had a great time. I just wanted to share a piece of memory with you. I hope all is well with you and your family.
Susie Santaniello Staten Island, NY
---
Hi Ed,
I just wanted to take a moment and again thank you for a great day of fishing, stories and just being on the lake. My sons and I truly enjoyed our experience. Josh was so excited about catching so many fish and it will be an experience he will remember for a life time. Even Mark who didn't catch as many as Josh commented that just being together and enjoying the time spent together was a treasure. We will definitely make another trip up to fish and will take my wife who after hearing our story seemed like she would enjoy it as much as we did. I'm hoping that maybe in late September when the Great Garage Sale in Warrensburg takes place we can come up again. Would the fishing be good then/ well, I'll let you go so again many thanks, Ed.
Mark Sweeney, Computer Operations Supervisor Department of Labor & Training
---
Hi Ed,
I just wanted to get this note off to you to tell you what a terrific experience you provided for my wife and me on May 29 2010 just 4 short days ago. We desperately needed some relaxation and in the 4 hours we spent with you we got all of that and more. You clearly knew the waters of that lake better than most men could know their bath tub. As a result , my wife and I each caught about 15 fish which were released to get  bigger for next time. My wife had never done any thing involving the outdoors and she had a perfectly wonderful day. Your pontoon boat was very easy ion her as she can have motion sickness but with your boat , no problem. In those rare moments when you were not expertly guiding us toward where the fish were, you tested my knowledge of TV and Movie western trivia, provided excellent conversation and local history lessons and some outstanding suggestions on where to eat. I went to that prime rib place and I tell you what, it was a big piece of prime rib, more than i could handle , and cooked to perfection.I have no reservation whatsoever about spreading the word that for the best relaxation and entertainment a morning fishing with Ed Lockhart is money well spent. Would I do it again? Just show me where to sign up.
Best wishes, Earl Dewey, Wallingford CT
---
Hi Ed,
Just wanted to take a moment and say thanks for the great day fishing. Hunter and I really enjoyed the afternoon and we both can't thank you enough for such an outstanding day. We are looking forward to ice fishing this year. Just let us know.
See you soon, Deane Moss
---
Hi Ed,
Thank you for a fun filled day. the guys really enjoyed the day. It was made possible because we all came to a conclusion that night that you we simply a down to earth guy without an attitude. we will be back up next summer with the families and we will book with you again. Ed, thanks for a great week. We could not have picked a better captain on the whole lake!
Dan
---
Ed,
Thanks so much for taking us out on Saturday afternoon. Lesa, I and Alesandra had a blast! In fact, my wife was singing your praises and telling everyone at Diamond Cove Beach about your fish locator skills!! Thanks for all of your help.
Regards. Paul V. Greco
---
Hey Ed,
I just want to thank you for another great time, though the conditions were tough your knowledge and company made it another great trip. Sharon and sled ed feel the same way and we'll see you soon.
Thanks again!
---
Ed,
I just got back and wanted to thank you for a great evening of fishing. My son Richie has not stopped telling fish stories since he got back that night. Your easy going nature and ability to put us on fish made the experience exactly what I had hoped for. You definitely have a repeat customer for years to follow.  
Thanks Rich Dalton
---
Dear Ed,
I just wanted to say Thank you for a most wonderful day fishing. Jonas and Jordan had a great time and talked about it all day. I just looked at the picture of them on the web site and they look great! Again Ed, thanks for a fun filled day of fishing and when I am back up in the Lake George area I will call ahead and book a new trip with you.
Sincerely, John Stankovich