Lake George Charter Fishing with Lockhart Guide Service
Enjoy Lake George aboard one of the largest and most comfortable fishing charter boats on Lake George. We offer quality top fishing aboard a boat that was custom built for fishing. Let us help you discover all of the best kept secrets on the lake, choose Lockhart Charter Fishing. We accomodate all ages of children and our boat is wheelchair accessible.
Our 26' custom Harris "Fisherman" Pontoon boat has over two hundred and twenty square feet of fishing room for up to a dozen people. This customized fishing boat is outfitted with a quiet 115hp Honda four stroke motor, along with all the latest electronic fishing equipment and tackle. Lake George fishing guide Captain Ed Lockhart will show you and yours a great time with memories that will last a lifetime.
Unlike regular fishing boats where comfort is secondary and you have to climb over the boat to get in, this boat has extremely comfortable seating for twelve people and the ability to walk aboard from the dock thru an open door. This larger style custom pontoon boat is a very stable on the water and has room all around the boat, so you won't be confined to just the back end of the boat. Our charter boat is inspected yearly by the state of NY and approved for up to 12 people.Your captain, Ed Lockhart, is a licensed captain and outdoor guide with a perfect safety record. Our pontoon boat can get into the shallowest water to fish for Pike and Bass where other charter boats could not possibly go. We offer free photographs and videos of your trip so come aboard and enjoy a day of friendly service, great fishing and beautiful scenery.
Our trips are all private so only your group or family will be on the boat. Our fishing boat, the Nathan Brown, was named after one of our local heros who was killed on Easter day in Iraq.
We entertain groups of all sizes so don't be cramped on a small boat, it costs no more to hire the finest boat along with a guide who is from Lake George NY. Captain Ed has the personality to entertain people of all ages and show everyone a great time, whether you're a serious fisherman or on your first fishing trip. I take pride in showing you the highlight of your Lake George vacation and giving you and your loved ones the memories that will last a lifetime.
We specialize in Bass fishing on Lake George using the latest in lures and light tackle. Our pontoon boat can go in less than two feet of water, allowing us to go very shallow for the early season Largemouth and Smallmouth Bass. Crappie and Northern Pike are also plentiful in the spring. We also have Scotty downriggers for Trout and Salmon fishing.
Our Lake George Charter boat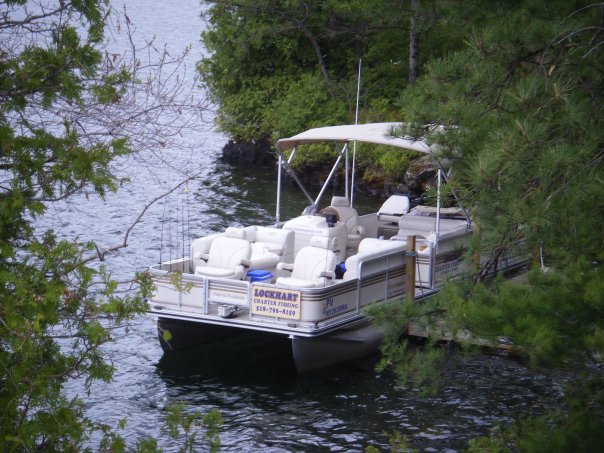 Choose a boat that offers enough room, comfort and quality to make your fishing trip on Lake George an experience to remember. From families with children to corporate groups to bachelor fishing parties, choose the best!
Fishing Packages Include
Our 26' custom "Harris 250 Fisherman" pontoon boat is one of the largest and most completely outfitted charter boats for all types of fishing on Lake George. This boat is customized by the Harris company for comfort, superior fishing and comes equipped with

A Large Live Well
Bait Tank
Scotty Down Riggers
Aqua-Vu underwater viewing camera

GPS/fish finders
a cover for sun or weather
seating for a dozen persons
Our top quality helm chairs swivel to face the water, so you can fish like a pro or sit back and enjoy the Adirondack surroundings. Pontoon boats offer much more space than regular boats, instead of cramping people in the back of the boat, you can use the entire boat for fishing. Able to go in much shallower water in pursuit of fish, this boat offers casting room for all and is very stable on the water. It is more enjoyable to fish closer to the water than way up off the lake like some boats are, you are closer to the action!
Our 115hp four stroke Honda motor is clean, fast, reliable and quiet. We can accommodate larger families and groups on our vessel saving you money from hiring or renting two boats, it's much better keeping your family or friends together on the same boat. We can make arrangements for corporate groups and extended families for multiple fishing boats.
For reservations call toll free anytime at 1-888-848-5253. or my cell phone at 1-518-796-8159
Take a Lake George photography trip and capture wildlife on your camera .
Birthday, graduation or wedding gift? We offer gift certificates for an unforgettable fishing and lakefront lodging experience and available immediately by email so treat your loved one to an outdoor adventure! Scroll down this page to "Buy Now" and secure a date for this summer.
Captain Ed Lockhart is the only native Lake George charter boat captain operating on the lake, born and raised in Lake George. With a lifetime of knowledge of the lake, the area, the people and the history of Lake George, Captain Ed will share the local best kept secrets. The Lockhart family settled on the east side of Lake George in 1828 from Scotland and has many generations of outdoor guides. With your captain as your guide, you will discover fishing methods and experience exciting fishing aboard one of the largest, most comfortable charter boats on Lake George.
Learn the local history, experience great fishing and marvel at the crystal clear waters of Lake George. If you are planning a group boating adventure, we also accommodate everything from wedding groups to bachelor parties. Our goal is a 110% good time, whether you want to fish or just sit back and enjoy the scenery. Above all else we are friendly, great with kids and always look forward to having you choose Lockhart fishing, as your northern outdoor Adirondack guide.
We will come to where you are camping on Lake George and pick you up for a day of unforgettable fishing. Some locations where we will come are Hearthstone Park and Long Island, Just tell me what campsite # you are at and I will be there.
We will come to Hearthstone Park or Long Island and pick you up for fishing.
Boat departs 3 times daily at 9am-12noon 12:30pm-3:30pm and 4pm-7pm all trips are made with reservations and a modest deposit. Our dockside pickup is great for persons needing a designated driver so leave the driving to us, it's your vacation!! A modest fee of $20 for dockside pick up is charged to cover the extra fuel and time.
Boat Rentals vs. Lockhart Charter?
Our rates include everything with no hidden charges. In comparison to renting a boat and taking it yourself, we provide all the gear, gas, guide services, a bigger and better boat. No boating disasters or paying for a prop with us!
Rates
3 Hour Morning and Afternoon Trips
$330 for two persons. $70 each additional. Kids 12 and under $40 per.
2 Hour Evening Trips
$280 for two persons. $70 each additional. Kids 12 and under $40 per.
All our trips are private so only your family or group will be aboard.
3 hour afternoon and evening Bass fishing trips offer calm water and great fishing. We offer a boat that is perfect for "conventional fishing" and we specialize in pleasing the fisherman who just wants to cast out and catch a fish while you're reeling in. I will take you around the islands and bays using live bait, crank baits, Lockhart Charter Fishing is not responsible for parking fees for your vehicle. We prefer to meet you at the Castaway Marina on Route 9L near Ridge Road. The Castaway Marina offers a wide range of boating services, boat repairs, parking, launching, gas and boat sales along with a friendly staff. We ask that you please respect the marina and the privacy of the boats that are docked there. Please use this marina only for parking and boarding our boat.
A $100 deposit is required to reserve the boat. Deposits may be made through Paypal to [email protected] or by check. Lockhart Guide Service will not make reservations without a deposit. Mailing address is Lockhart Guide Service LLC 50 Dream Lake Rd Ext. Lake George NY 12845. Gift certificates are available.
We recommend you bring
A NYS freshwater fishing license
Beverages of your choice. (we do not provide beer)
All items brought on board are the responsibility of the owner. Your Captain accepts payment at the beginning of the trip in cash, certified check or money order; we do not accept credit cards or out of state checks on the boat. If you wish to pay with a Credit card, payment can be made before the trip thru the Paypal site listed above.
Thank you, Sincerely
Ed Lockhart